Temporary tattoo solution:
a unique experience between the brand and its community
Events are at the heart of brand strategy. To gain visibility, you must rely on an original and offbeat medium such as temporary tattoos. Both fun and connected, this solution will make your community experience a unique moment. Your event will be printed both in the mind and on the skin of the public !
Offer a unique experience
Events are a powerful lever to enhance a company's brand image. It promotes proximity to targets and allows for larger-scale communication, particularly through animation. At events where the stakes are more commercial, it is essential to offer innovative tools to promote your products and your company's image.
To build your brand image, it is important to create a link with your target audience, to let them live a unique moment… to offer a real customer experience ! A solid link is created with a strong approach that goes beyond the consumer gesture, putting your brand at the heart of the message.
In terms of impact, temporary tattoos are the ideal solution. Beyond the simple decorative aspect, they become real communication supports that promotes your company in an original way. You leave your identity and your message (logos, dedicated visuals, slogans…) on your customers' skin.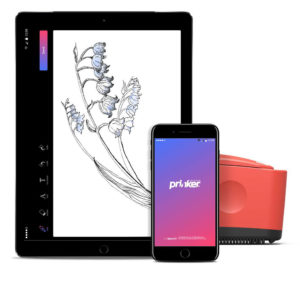 Create physical and connected links
Digital is assimilated by many to dematerialization and therefore does not favour human relationships. However, today's web is changing the situation: a great opportunity for immersion with connected objects. Reality will be able to merge with the digital world. It is now a vehicle for encounters, social ties and interaction. Events, a sector where people dominate, is the most promising for these new perspectives. The event organization takes these new challenges into account and reinvents itself to welcome this digital dimension.


In this line, Prinker is an ideal solution: a miniaturized, stand-alone inkjet printer connected via Bluetooth to a tablet. The device allows any type of drawing or colour message to be applied directly to the skin in a matter of seconds. Prinker creates a physical link between a brand and its targets in a digital context.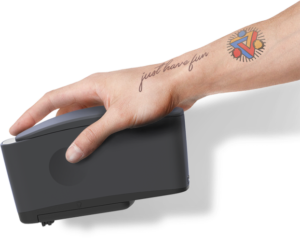 Make your event collaborative
Thanks to connected objects like Prinker, you offer visibility to your brand, your projects or your events via a new means of communication! Innovate and mark people's minds with temporary tattoos (logos, dedicated visuals, slogans, etc…) on all occasions :


Cultural or sport events ;
Street marketing ;
Corporate conventions and corporate events ;
In-store promotion events ;
Fairs and exhibitions ;
Private events…
When the benefits of digital technology are applied to events, a company's communication reaches a new level ! With the temporary tattoo solution, such as Prinker, your brand will provide a unique customer experience that will enhance your overall brand image. From the temporary tattoo, augmented reality solutions can also be considered, triggered by the printed visual.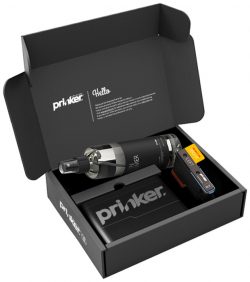 You are soon organizing a professional event or a private party. You are looking for new experiences for your guests.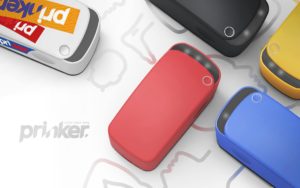 Why have the most prestigious brands adopted Prinker ? Prinker had its European premiere at Viva Technologies in Paris and is now available in Europe.
Discover >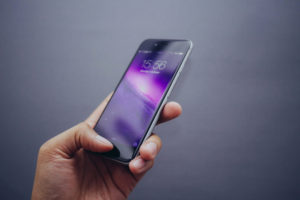 Digital technology at the service of an innovative event Professionals today understand the importance of the digital dimension necessary for any event. The digital strategy
Discover >